the mirror is coming along
---
Well ive not posted for a few weeks as ive had lots to do work and personal life wise so not had that much time with the mirror but I finally finished getting the back flat which was my main aim so I could finally move onto the front.As I said in an early blog post,my mirror was nowhere near uniform when I got it so I had to take lots of glass out of the middle to get it flat as it was convex.i wasn't 100% sure I had got it right so I travelled up to see mirror maker supremo John Nichol for a second opinion.If it hadn't have been for John I very much doubt I would have had the confidence to even think about a project like this but after attending his mirror making seminar last year and email support in the mean time it really did fill me with confidence to have a bash.Was a great eye opener seeing his mirror making facility,all those machines and all that glass!!!! I had travelled to see John to make sure I was going right and I had explained how my mirror had been and how i had tried to grind it flat and that I though it was slightly turned at the edge so he had actually set his machine up ready to correct this as we had both assumed the worse.Well I put my mirror down on the table and unpacked it for John to check out to see if I had got the mirror flat enough and uniform and out came the straight edges and the mirror makers eye and the first comment was "well Rich I think you have had a wasted journey".Well to mee that had made the journey anything but wasted as It was massive relief for me to know it was bang on and ready to go ontot the front after a quick half an hour blast with some 220.i was left with a really fine casting mark on one edge which I may polish out later but on the back to me it isn't important.
after a quick bit of 220.decent bevel too :)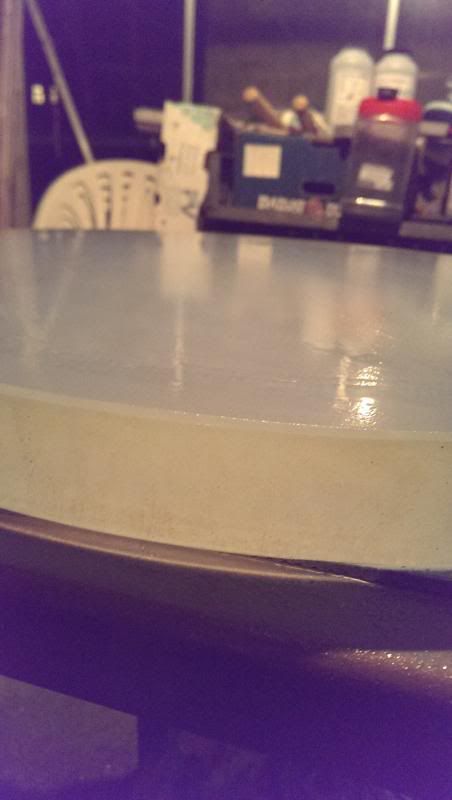 finally the mirror is turned over to show the high ridges on the front ready to grind.its not 100% clean so not as shiny as it could be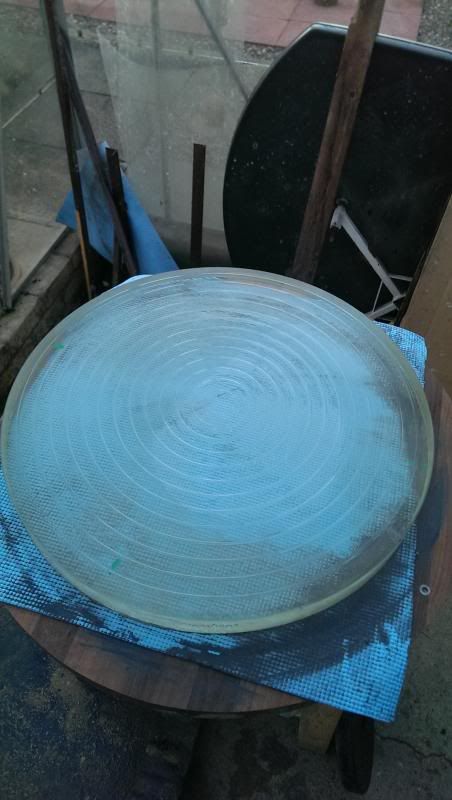 grinding the higher thin casting marks on the front to me is a bit of a nervy experience as you feel as though they are going to snap off and its a noisy experience with much vibration.rather than doing long strokes I shortened mine down to lessen this vibration and after about half an hour they were much lower
after another hour I was left with a few higher ridges near the edges which I used a smaller 6" sub diameter tool locally to grind these lower which seemed to work quite well.after about 2 hours the front is almost fully clear of casting marks and has a sagittal although the flipside of having a raised part on the back is that I have a slightly depressed part on the front which John tells me will more than likely grind out as I remove 10mm of glass to get my focal length.one thing I did notice when using the 60grit,its amazing how quick you can grind down a 3mm bevel when the surface is flat!!!I ended up with no bevel at all so have been really luckly not to get lots of shells on the edge.i did get one slight shell but it will bevel out when I next redo it so very very lucky escape!!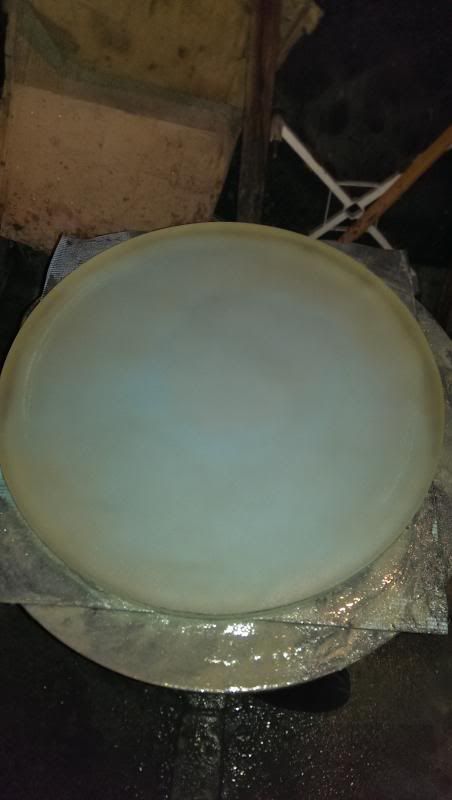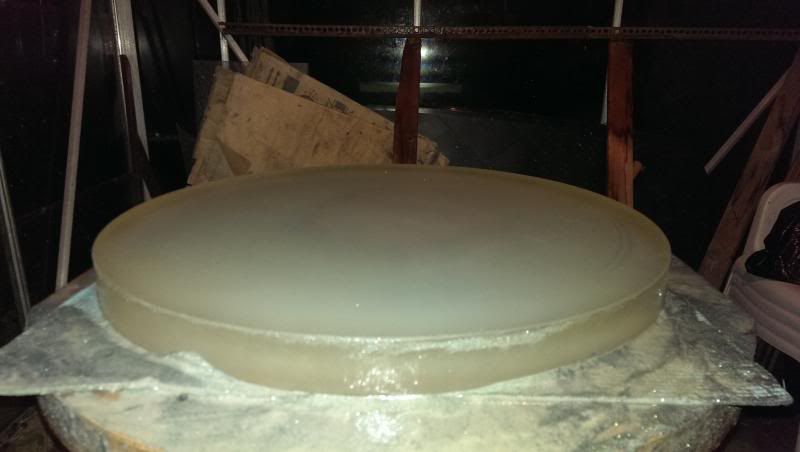 just a few casting marks left now,one on each side and they will grind down slowly as I keep pounding away with the 80grit.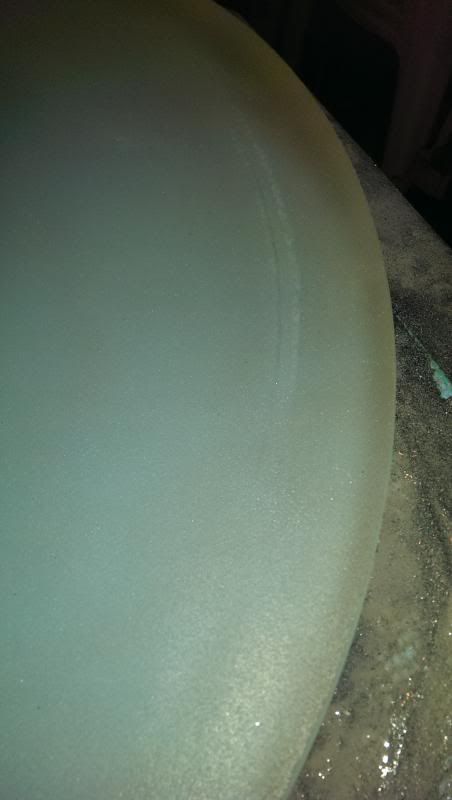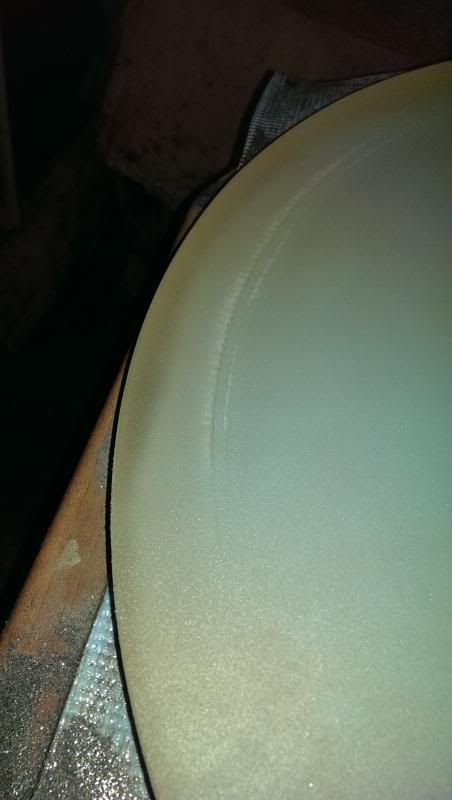 making decent progress and the next few weeks will be spent doing the boring part of hogging out the curve and topping up the bevel from time to time so I wont likely bore you with regular updates other than when the curve becomes apparent.
just some notes to add:
grinding he back I used 3.5kg of 80grit,2g of 60grit and 250g of 220 grit
so far on the front I have used 2kg of 60grit and about 1kg of 80 so far.
myself and Damien(master) purchased a 25kg sack of 80grit between us and shared it out so hopefully that will get me somewhere towards my curve before I have to order anymore.80grit grinds much much slower than 60 so expecting it to take me well into the back end of February to get to my curve at the minimum!!
in all time wise it took me 14hours to get the back flat!!!!
so far ive spent 4 1/2 s on the front with an hour and a half being on the bevel so 18 1/2 hours in total so far.
Im not managing to put ion the time I had hoped when I planned the grind but with the weather as it is,observing time hasn't been eating into grinding time!!!!
cheers for looking Rich
1