Steve from
First Light Optics
kindly lent me a New 2"
Skywatcher Light Pollution Filter
.
Last night at the end of my imaging run I changed filter so that I could do a side by side - same conditions, temperature, orientation, object, scope - I took great care to ensure that within reason everything was the same.
So the target is M81 and M82. The camera was a 300D at prime focus of the Revalation ED80.
The ISO was 1600, taken in RAW mode. All images were stored on the CF Card.
The whole imaging run last night was with the Skywatcher filter (so I'm looking forward to processing the Subs). The cooling time between subs was 30 seconds. The time between last sub (with Skywatcher filter) and image with
Baadar Neodymium filter
was around a minute - the time it took to change the filter.
So if anything the Baadar filter had the benefit of a longer cool down time - but I doubt that had much of a bearing.
Below are the three images, the first is the image with NO FILTER at all. Then the Baader Neodymium Filter and then lastly the Skywatcher filter.
Images imported to PS CS2, re-sized and saved as Jpg's (quality 12).
NO FILTER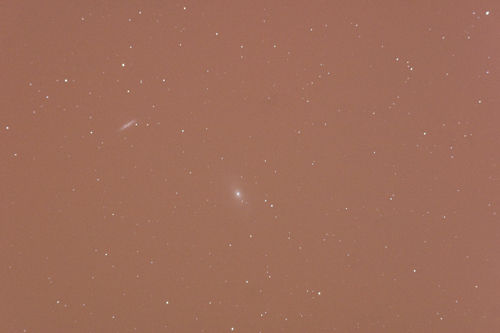 (click to enlarge)
Neodymium Filter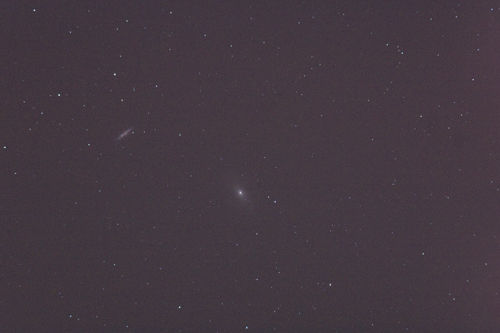 (click to enlarge)
Skywatcher Filter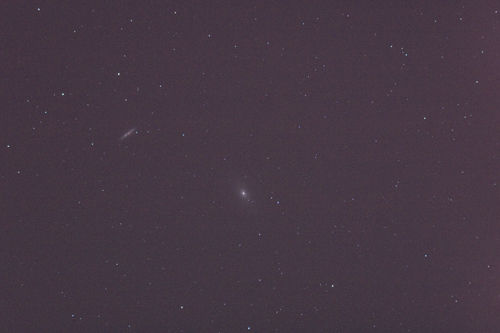 (click to enlarge)
The difference in price means that IMO the Skywatcher Filter is a much better buy. I will try the filters again at longer exposures and see what's happens.
Oh and the filter case that it comes in looks sweet!
I have uploaded a RAR file to UKastronomers, should anyone want to look / play with the RAW files. The histogram's do look different - download the RAW's and have a look.
http://ukastronomers...files/fileid/80
.
Here is the final image of the session last night, 60 x 2 minute subs. Skywatcher LPR filter. ISO 1600. ED80 plus 300D.
Need help with the processing though. NEED DARK FRAMES!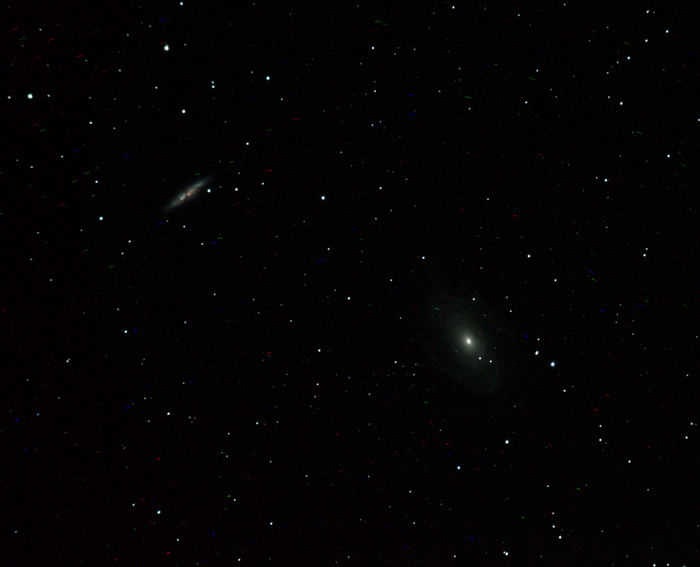 (click to enlarge)
Ant